Products from Aubrey Organics and Design Essentials are a regular part of my hair care routine. They ensure sufficient hydration, without loss of curl definition or weighing my hair down. My natural curls look healthy without any frizz.


When I write about hair care products I usually review individual products or brands. To this date I have rarely written about the different products I combine in order to get beautiful curls.
Because I like to test different hair products I don't really have a particular hair brand I stick to. Yet, some hair care products will remain part of my hair care routine although I don't buy them regularly.
My hair care routine
My hair care routine consists of:
1. Yves Rocher Lissage Smoothing shampoo with okra seeds
This Yves Rocher smoothing shampoo was part of a goodie bag I received at the the Natural Black Hair event hosted by Taren Guy. It's a silicone free shampoo and prevents frizz without weighing my hair down. Because okra seeds contain smoothing properties, this shampoo enables you to comb your hair with ease.
The scent is floral with a hint of spice. Probably this is because Yves Rocher Lissage Smoothing shampoo contains 96% natural ingredients contains, according to the manufacturer. Thus, it has no parabens.
50% Discount
A bottle contains 300 ml shampoo and costs €5,90. If you're lucky you'll get a 50% discount, which means you'll only have to pay €2,95 at the Yves Rocher webshop.
2. Aubrey Organics GPB Balancing Protein Conditioner
At the Good Hair Festival I talked with Megisa, one of the owners of Ohmyhair.nl. I told her about my positive experience with the Sheado Protein Fix when she introduced me to Aubrey Organics GPB protein balancing conditioner.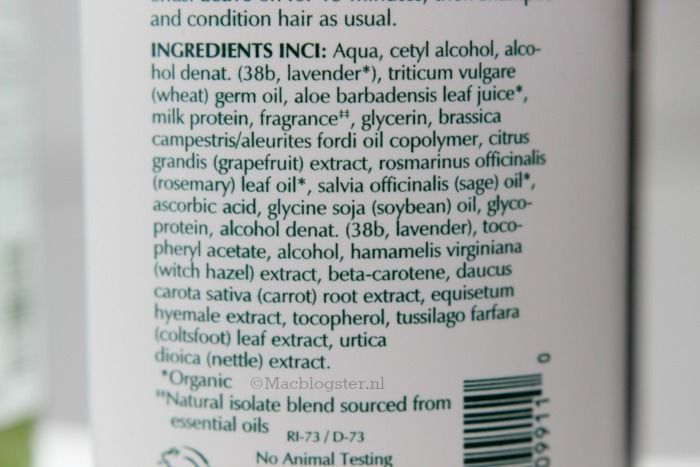 This conditioner has been the most popular product of Aubrey Organics for over 45 years, because of its moisturizing character. The organic aloe vera restores your hair's moisture balance and herbs like Coltsfoot and Shavegrass give your hair extra bounce. Glyco and milk protein strengthen the hair fiber and recover damaged hair.
Love the smell
I love the smell and it makes my hair feel soft! A bottle contains 325 ml conditioner and costs € 17. For sale at Ohmyhair.nl.
3. Design Essentials Natural Almond & Avocado Detangling leave-in conditioner
I have to admit I wasn't crazy about the brand Design Essentials after my introduction to Design Essentials herbal complex 4, one of the products in the 1st Dutch Black Hair Box. Luckily the Dutch brand owner of Design Essentials gave me some samples and products to try. I didn't expect a lot, but because she demonstrated what it could do with my hair, I decided to try out the products. This also included the Design Essentials Almond & Avocado Detangling leave-in conditioner which is definitely a keeper!
A bottle of detangling leave-in conditioner contains 237 ml and costs €15,95. As you can see in the picture above (on the right) this leave-in conditioner gives good curl definition.
4. Design Essentials Natural Curl Enhancing Mousse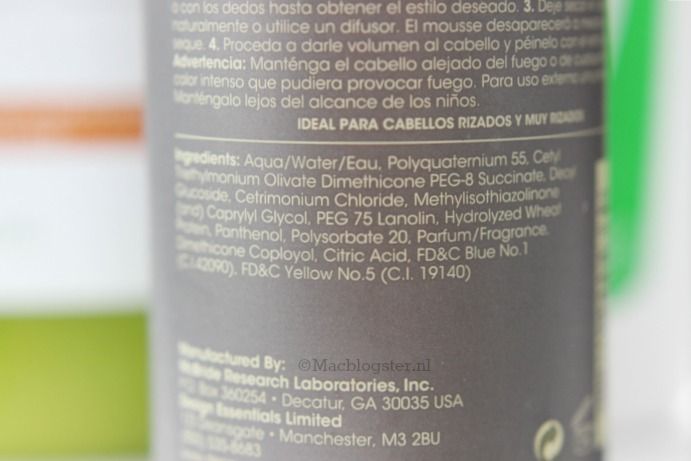 I actually expected that the combination of the leave-in conditioner and the Natural Curl Enhancing Mousse wouldn't do much for my hair. At the end of the day my hair would be probably dry….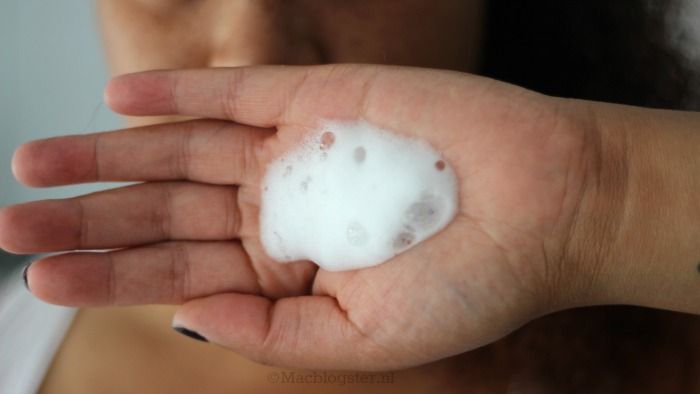 Surprisingly, this didn't happen. What did happen: hydrated hair and good curl definition. No frizz or heavy curls. It reminded me of Kinky Curly Curling Custard, however this dried faster.
A bottle Design Essentials Natural Curl Enhancing Mousse contains 237 ml and costs €14,30. Design Essentials products are available at the Dutch Design Essentials webshop (Click orange link).
The result
Q | Are you familiar with Design Essentials or Aubrey Organics? Wha do you think of the result?