Do you ever get frustrated by your hair? Do you feel like your curly hair is always frizzy and dry to the bone? If you're looking for a solution and wonder if Aunt Jackie's Curl La La is the solution to your problem, you might want to read my Curl Custard review:
This review is also available in English. Click here
I suffered from frizzy and dry curly hair so I experienced the same problem as you do. This is the main reason I decided to buy Aunt Jackie's Curl La La Defining Curl Custard. I really wanted a hair product that would allow me to properly care for my hair without spending a lot of bucks. I think you'll be happy to read this curl custard will solve your problem if you use it in the right way.
Buy Aunt Jackie's Curl La La online at:
Aunt Jackie's Curl Custard review
The reason I bought Aunt Jackie's Curl La La Curl Custard is because the packaging says the following:
it's for every type of curl: natural curls, coils and waves,
it prevents frizz
moisturizes lifeless and dry curly hair
This made me really curious since my hair ticked all of the above the boxes. I was eager to see if this curl custard would give my natural curls the 'oomph' I longed for:
more bounce,
shine
and curl definition.
So I wondered if this was the paraben and sulfate free miracle product my dry curly hair was looking for. But before I go into depth, I'll first describe the pros and cons of using this popular Curl Cream.
6 Reasons to buy Aunt Jackie's Curl La La
First I'll start with 6 reasons why you'd want to buy Aunt Jackie's Curl La La:
It's affordable.
No shrinkage.
It makes my hair shine.
Free from sulfates & parabens.
Free from mineral oil and petroleum.
Added Shea Butter and olive oil (pretty high on the ingredients list).
Read positive ratings by other Curl La La users
2 Reasons why you shouldn't buy this Curl Custard
Ofcourse there also reasons why you shouldn't buy this product:
don't buy this if you don't like sweet fragrances.
I wouldn't advise you to use this on a babies or toddler because of the added fragrance. It could irritate their scalp.
Read negative ratings by other Curl La La users
Lightweight & curl definition
Now you know what the pros and cons are, I'll go into more detail about this Curl Custard.
When you'll use Curl La La you'll notice that the texture is light. It's not a thick cream, it's more like a cream to which they've added some water. This is no surprise since water (aqua) is the first ingredient on the ingredients list.
Because of this light texture I wondered if it would hydrate my hair properly. So I was rather skeptical at first. But the moment I applied the product to my hair I noticed my curl definition slightly improved.
It didn't weigh down my hair, but I it did take half a day for my hair to get fully dry. Of course you can shorten the drying time if you use a good hair dryer with a diffuser.

Soft & shiny hair
I also noticed how soft my natural curls immediately became after using the curl defining custard. Even after using a blow dryer. I actually expected my hair to be dry after using a blow dryer, but this did not happen. My hair was hydrated. Even at the end of the evening!
When you look at the pictures you may notice certain parts of my natural curls look frizzy. This is because I dyed my hair so it's overly dry and frizzy. But the mos important reason is I didn't combine Aunt Jackie's Curl Custard with a leave-in conditioner.
How to use Aunt Jackie's Curl La La?
This is quite essential, because the curl defining custard is a styling product. So if you buy this product you'll ABSOLUTELY have to use it in combination with a leave-in conditioner.
Right now my favorite leave-in conditioners are:
So you apply the Curl Custard after using a leave-in conditioner or a hair milk. According to Aunt Jackie you can apply Curl La La on both wet and dry hair without leaving any white residue. I think this is a big plus.
Personally, I get tired of styling products and moisturizers that can only be used on wet hair. In summer I don't think it's such a problem, but in winter I don't want to walk around with wet hair. Being able to apply it to dry hair is a positive thing since it means I don't have to wet my hair all the time.
However you get the best results when you use it in wet hair. You also have to apply a generous amount of Curl Custard. The jar says you have to use it on your scalp, but I would urge you to only use in on your hair and NOT on your scalp.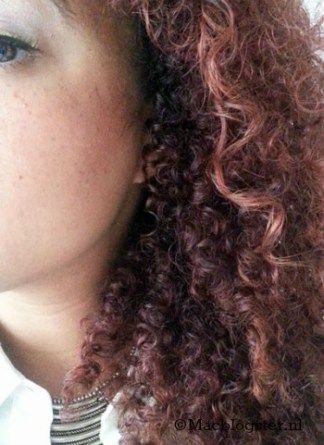 Should you buy this?
In conclusion I think Aunt Jackie's is an affordable product to use. If you don't mind sweet fragrances I would say this is a good product to buy. It will prevent your hair from getting dry and frizzy when you use it in the correct way.
If you don't like sweet fragrances or want to buy a similar product that's CG proof, check out 1 one of these products:

Questions you might have about Curl La La Curl Defining Custard
Is Aunt Jackie's Sulfate free? Yes, this Curl La La Curl Defining Custard is sulfate free
Is Curl La La CG approved? No it isn't. Although it doesn't contain sulfates and parabens, it does contain Dimethicone which is a silicone.
Is Curl La La good for your hair? Curl La La is a good product but I can't tell you if this is good for your hair. The answer depends on what your type of hair needs. If you would like to know more about how to find out what your hair needs I would advise you to read this blog I wrote.
Curl La La Ingredients
As described before Aunt Jackie's Curl La La isn't CG approved because it contains Dimethicone which is a silicone. You should also keep in mind this product contains proteins which is meant to strengthen your hair.
Aqua (Water), Propylene Glycol, Ppg-1 Trideceth-6, Butyrospermum Parkii (Shea Butter) Fruit, Glycine Soja (Soybean) Oil, Glycerin, Olea Europaea (Olive) Fruit Oil, Polyquaternium-37, Propylene Glycol, Dicaprylate/Dicaprate, Cetyl Alcohol, Parfum (Fragrance), Dimethicone, Lanolin Oil, Acrylamidopropyltrimonium Chloride/Acrylamide Copolymer, Stearalkonium Chloride, D-Limonene, Hexyl Cinnamic Aldehyde, Linalool, Amyl Cinnamic Aldehyde, Lilial, Benzyl Alcohol, Citronellol, Hydroxycitronellal, Cinnamic Alcohol, 5-Chloro-2-Methyl-4-Isothiazolin-3-One, 2-Methyl-4-Isothiazolin-3-One, Hydrolyzed Quinoa, Ci 17200 (Red 33), Ci 42090 (Blue 1).
Have you also seen this?