The Denman brush for curly hair will only work its magic if you buy the right one. Read on to find out which Denman brush is best for you.
Before you buy a Denman brush for curly hair you should ask yourself the following questions first: why do you want to buy this popular hairbrush?
Is it because you want to get rid of tangled hair easily?
Or are you looking for a hairbrush to improve your curl definition?
The brush does both, but will only work its magic if you buy the right one. Read on to find out which Denman Curl Brush is best for you.
Denman brush for curly hair
At the bottom of my blog post you'll find other blogs about the care of curly hair. In this blog post the following Denman brushes are discussed:
There doesn't seem to be any difference between the above-mentioned hairbrushes. However, below I will explain what the exact difference is between a D4 and a D41, despite the fact that they both have 9 rows.
Denman brush
Although I already own a Tangle Teezer especially for thick and curly hair, I decided to buy a Denman Brush. I wanted to find out if the Denman Brush for curly hair was worthy of its sacred status. Besides this, I was also curious if this brush creates more beautiful curls than my Tangle Teezer does. I'm perfectly satisfied with my tangle teezer I must say.
Searching for the right Denman brush
During my search, I found out the following:
There are several Denman Brushes. They have different functions.
Do your research so you know which Denman Brush curly hair you need based on your needs. For example: improving your curl definition or making it easier to detangle your natural hair.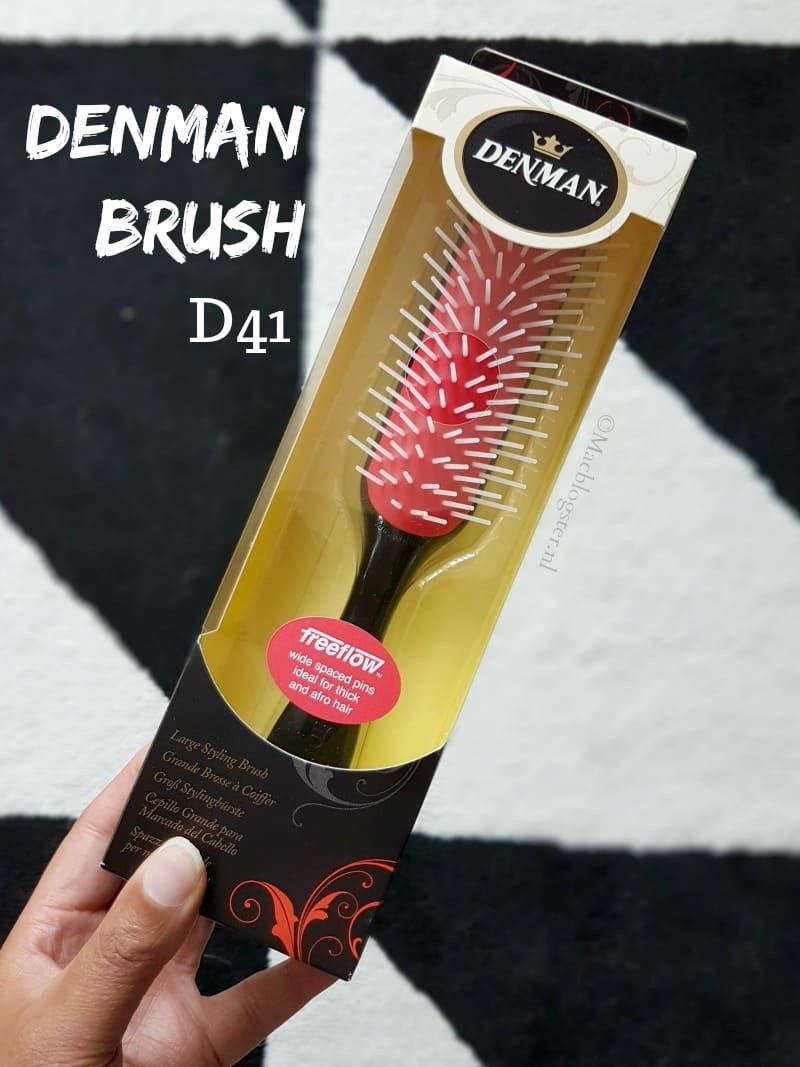 Denman brush D3 or D31?
There are dozens of Denman brushes, so if you're talking about a Denman brush for curly hair, you're not talking about 1 specific hairbrush.
This is relevant to know because if you want to buy 1, you have to know which hairbrush you exactly need. This will prevent you from buying the wrong Denman Brush, thus ending up with a negative experience and becoming disappointed.
Frequently heard complaint
A common complaint is that the Denman brush is not suitable for detangling thick hair. Nevertheless, you also hear that it is the right hairbrush to make your curls free of tangles. Are you getting confused? Don't worry, I'll explain what to look out for.
Creating beautiful curl definition
If you look at most Youtube videos, you'll generally see the Denman Brush D3 or D4. These hairbrushes are mainly used to create a beautiful curl definition. It is not necessarily used to detangle curly hair.
If you watch the videos below you'll see what I'm talking about:
Creating curl definition with a Denman brush:
Create curl definition on type 4 hair (see from 3:06 minutes):
Detangling thick curly hair
In short, Denman D3 and D4 brushes are mainly used to create beautiful curls. If you have thick hair, the D3 and D4 are not suitable for detangling your natural hair.
If you have thick and curly hair and are more interested in removing tangles, you will need a Denman Brush D31 or D41.
Denman D4 vs D41
For your convenience I took a picture of the D4 and D41 brushes so you can see the difference between them:
The D41 has fewer 'bristles' and they are also more widely spaced (suitable for detangling).
The D4 Denman Brush has more 'bristles' which are closer together (suitable for improving curl definition).
In conclusion
There are different Denman Brushes for curly hair. Which hairbrush you need depends on the purpose you want to use it for:
Are you looking for a faster way to untangle your hair: buy Denman Brush D31 or D41.
Are you just looking for a hairbrush that improves your curl definition: buy Denman Brush D3 or D4
D31 is a medium brush (7 rows) and D41 is a large brush (9 rows). The Denman D41 is suitable for medium to long hair. The D31 brush is suitable for different hair lengths.
The same difference applies to the D3 (medium brush) and D4 (large brush), although they have more rows.
Detangling & Curl Definition
I have experience with the Denman D41 brush because I have it at home. Detangling my natural hair is easy with this brush. I also noticed that it gives a good curl definition.
I do not know if you get a better curl definition with a D3 or D4 brush. However, I am already pleased with the curl definition I get when using the D41 brush.
Where can you buy a Denman brush for curly hair?
You can buy your Deman brush for curly hair at Amazon:
You'll also like
Okra leave-in conditioner: DIY conditioner for curly & natural hair