Are you wondering how you can make your curly hair look shiny and beautiful? The secret to this is my okra hair mask recipe which I'll gladly share with you, since it did wonders to my hair. The best thing is it's so versatile you can use it as a hair gel or leave-in conditioner too.
You've probably heard of "protein", "vitamin", and "nutrient hair masks", but have you ever heard of "okra hair masks"?
Maybe you've only eaten okra since it's a very nutritious vegetable also known as lady's finger or gumbo. It's mostly eaten in the deep South as well as in African, Asian and Caribbean countries.
Probably, you've never heard of using it as a hair mask it, but today is the day you're about to embark a new journey into okra hair masks.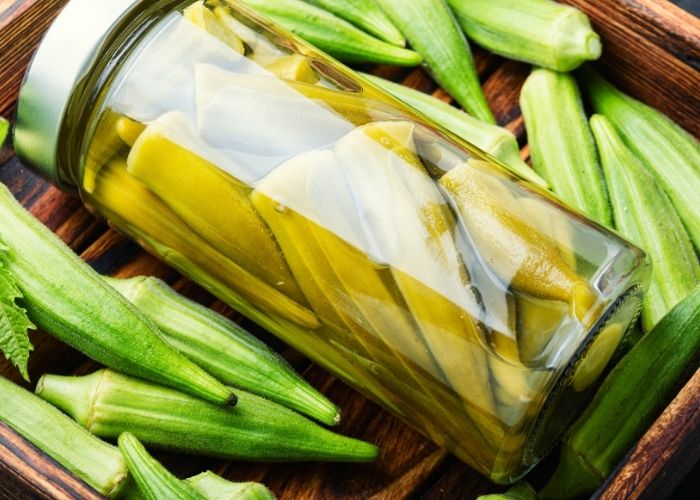 You can use okra to make your hair shiny, more conditioned and less frizzy. Here are few ways that you can incorporate more okra into your curly girl life.
Why use an okra hair mask?
Okra is a good source of protein and is rich in vitamins, anti-oxidants and minerals like vitamin C, B1, B5, B6, zinc, selenium and iron.
It also contains a special plant compound to help hydrate dry and and damaged hair. Which leads to hair growth.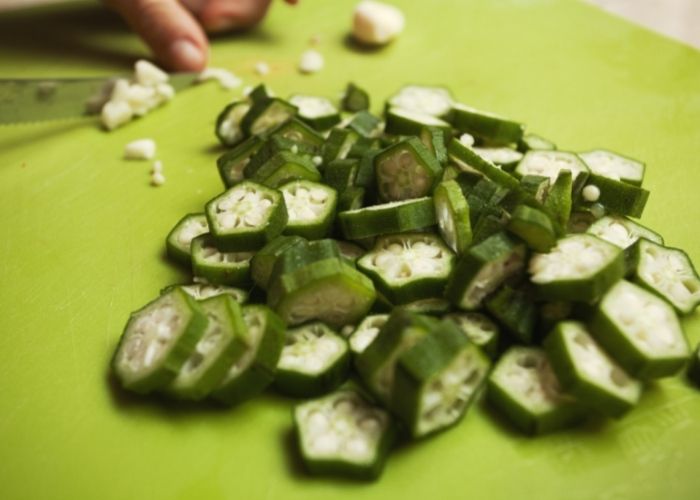 9 Okra hair mask benefits
When you regularly use a hair mask made of okra, you'll notice your hair will look shiny.
Other benefits are:
it's natural and safe to use;
so you can also use this mask as a leave-in conditioner;
okra is relatively cheap
and has a neutral smell;
it's an excellent moisturizer to nourishes your hair;
it creates a perfect curl definition;
okra makes your hair soft;
and because of the great slip your hair will be easy to comb through (especially coarse natural hair).
So now you're probably wondering how to make your own okra hair mask. Check out the recipe below which is made by FreshDimez.
Also read: This Denman brush for curly hair will give you a perfect curl definition
DIY Okra Hair Mask & Leave-in conditioner recipe
This homemade Okra hair mask and leave-in conditioner stays well for about two weeks. The preparation time involves 20 minutes + a day to let it all blend well.
You can use it as a deep conditioner hair mask and rinse it out of your hair. Or you can even use it as a leave-in conditioner and leave-it in.
Ingredients
5,5 oz okra.
1 tbsp water (18 floz)
Equipment
Saucepan
Mason jar
a Cheesecloth (or tea towel or coffee filter if you don't have one)
An empty bottle
2 cups
Instructions
Cut the okras in small pièces.
Add approximately 1 ⅔ cupl of water in a saucepan and put the okra in.
Let it boil at medium heat.
Let it simmer for about 15 minutes while stirring occasionally.
dd the rest of the water and let it cook at low heat for another 5 minutes.
Let it cool off and store it in a mason jar.
Let it rest for a day so everything can blend well.
Use a cheesecloth (or tea towel) to separate the okra seeds from the slime.
Finally, add 1/3 amount of oil to the slimy substance and pour it in a bottle.
Your Okra hair mask & leave-in conditioner is ready to use. Shake well every time you use it.
How to use this hair mask?
You can use this versatile hair mask in so many different ways. You can use it:
as a hair mask
to refresh your curly hair
as a leave-in conditioner/detangler
or a a twist & lock gel
Hair mask
Apply this mask after washing your hair. Leave it on for 10 to 30 minutes.
If you like you can use a heat cap to stimulate the hair mask to penetrate your hair strands.
When you're finished rinse your hair and style as usual.
Curl refresher
This okra hair mask also works great if you apply it to dry hair before you shower, and then leave it on while you're in the shower. Rinse your hair and then style as usual.
Curl detangler / leave-in conditioner
Use your homemade okra hair mask after you've washed your hair. Don't rinse it out, just leave it in your hair. Because of the slip your hair becomes easy to detangle and is also highly moisturized.
Twist & lock gel
Some people even use it as a twist and lock gel to create perfect twist outs. The okra provides the right balance between fixation, hydration and softness.
Normally a natural curly hair product like this would cost a fortune. Luckily, it's fairly easy to create it yourself.
In conclusion, because of its moisturizing properties, this okra hair mask works great for curly hair. It's a great way to add moisture, some bounce and shine to your hair.
Are you also into DIY-ing your own hair masks?
Others also read