Did you ever make an okra leave-in conditioner? According to guest blogger Fresh Dimez okra makes your natural hair soft and easy to comb through. Regular use will make your natural curly hair healthy and it also creates a great curl definition withy any weird smell. Here's the DIY recipe.
Lees dit blog artikel in het Nederlands
You'll need the following ingredients to make your own DIY Okra conditioner:
5,5 oz okra
2 cups + 1 tbsp water (18 floz)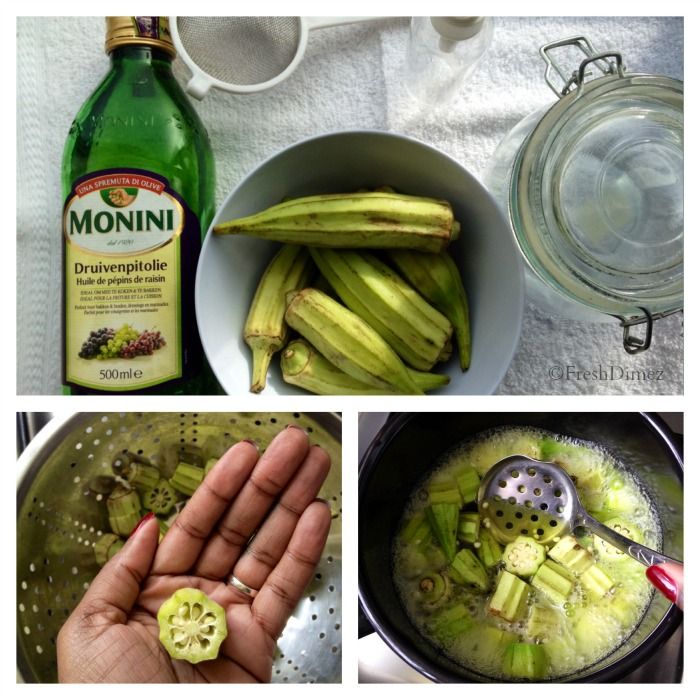 Okra hair care
As a young student I lived in Surinam. During this period I got acquainted with tropical vegetaties, such as okra, and their use. Many people think okra is a great ingredient to use in a stew or a delicieus soup, but surprisingly you can also use it as part of your hair care regime.
Here's why it's good to use okra for your natural hair
The word slime doesn't sound all too good, however I've seen boys in Surinam using the orka's slime succesfully in creating dreadlocks. Consequently, their hair looked very healthy.
No more dry hair
The okra's slimy substance is a good ingredient to use when making your own leave-in conditioner. Additionally, okra's rich in vitamins and minerals. It ensures shiny hair and will make dry and coarse hair manageable again.
Okra leave-in conditioner: 6 advantages
It nourishes hair;
gives a perfect curl definition;
makes hair soft and easy to comb;
costs little money;
has a neutraal smell;
creates 'great slip'
Popular conditioner
Hair products with a 'great slip' are immensely popular among women (and men) with curly or frizzy hair.
Okra as curl detangler
I use my homemade okra leave-in conditioner right after I've washed my hair. Because of this slimy leave-in conditioner detangling my hair becomes child's play.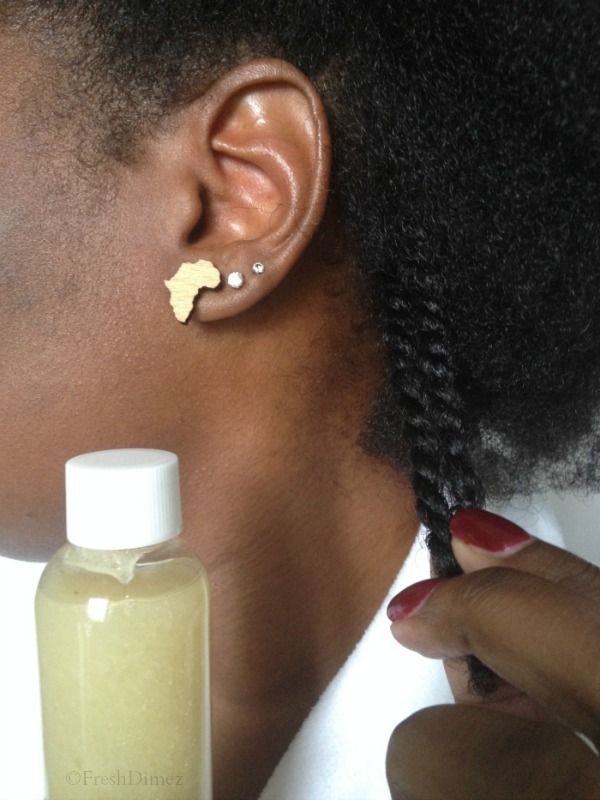 Perfect twist outs
Also, I use it as twist and lock gel to create perfect twist outs. The okra conditioner provides the right balance between fixation, hydration and softness. A natural hair product like this would cost me a fortune! Reason enough to create my own a magic potion.
DIY Okra Leave-in Conditioner
DIY: Okra the perfect conditioner for curls & natural hair
Recipe Type
:
Hair care recipe
Author:
Prep time:
Total time:
This leave-in conditioner stays well for about two weeks. The actual reparation time is 20 minutes and a day.
Ingredients
-5,5 oz okra.
-Grapeseed Oil or an oil of your choice
-2 cups + 1 tbsp water (18 floz)
-Saucepan
-Mason jar
-A strainer cloth
-An empty bottle
Instructions
Cut the okras in small pièces.
Approximately add 1 ⅔ cupl of water in a saucepan and put the okra in. Let it boil at medium heat.
Let it simmer for about 15 minutes while stirring occasionally.
Add the rest of the water and let it cook at low heat for another 5 minutes.
Let it cool off and store it in a mason jar for one day.
Use a strainer cloth to separate the okra seeds from the slime.
Finally, add 1/3 amount of oil to slimy substitute and pour it in a bottle. Shake well every time you use it and you ochre leave-in conditioner is ready to use.
Did you see this too?