Not long ago I bought MAC Candy Yum Yum: a strikingly neon pink lipstick with a matte finish. A few weeks later I ran into the exact same color which is far more cheaper than the original MAC lipstick.
Cheaper lipstick, same colour
One of my Facebook readers told me she didn't like the feel and the smell of Candy Yum Yum at the end of the day. I personally don't have the same experience, but I can imagine that it's quite disappointing if you spend €18,50 on a lipstick you're not going to use. With this in mind, I went looking for the perfect MAC Candy Yum Yum dupe (= look a like). Luckily I found one which only costs €2,50. Hurray!
MAC Candy Yum Yum Dupe
Hema Pure color lipstick in Pink & Shine Bright (12) and MAC Candy Yum Yum look like two drops of water. The only difference is the finish. As I indicated before Candy Yum Yum has a matte finish, as a result it feels fairly dry. However, because of this it stays on all day.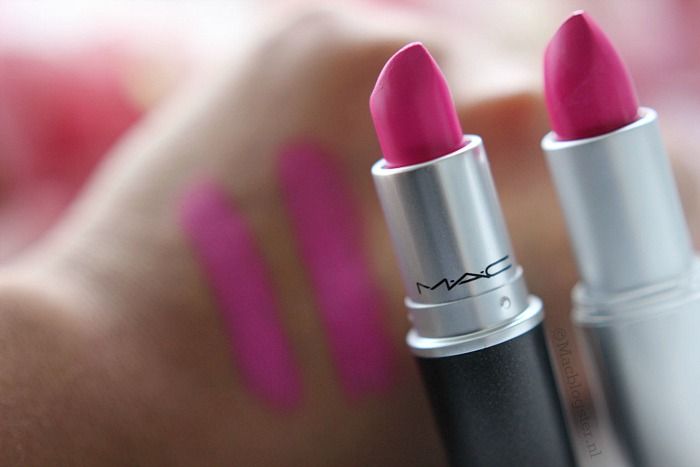 Not suitable if..
Despite the wonderful matte color (I personally love it), this lipstick isn't suitable if you suffer from dry chapped lips. You won't look charming if you have a lot of dead cells. So before using Candy Yum Yum, you'd be wise to use a lip scrub.
Soft texture
Hema Pure & Shine lipstick is softer in terms of texture and has more shine (duh, what's in a name). This makes the color Bright Pink (12) a bit less intense than MAC Candy Yum Yum. But because of the soft texture it's easier to apply and it won't emphasize dead cells, when you have chapped lips.
Which lipstick do you prefer?
In terms of softness I prefer the Hema Pure & Shine lipstick, but to be honest I really love Candy Yum Yum's matte finish. I think it's awesome. But if you're more concerned about the colour and don't care whether it has a matte or shiny finish, Hema Pure & Shine lipstick Bright Pink (12) is a very good MAC Candy Yum Yum dupe.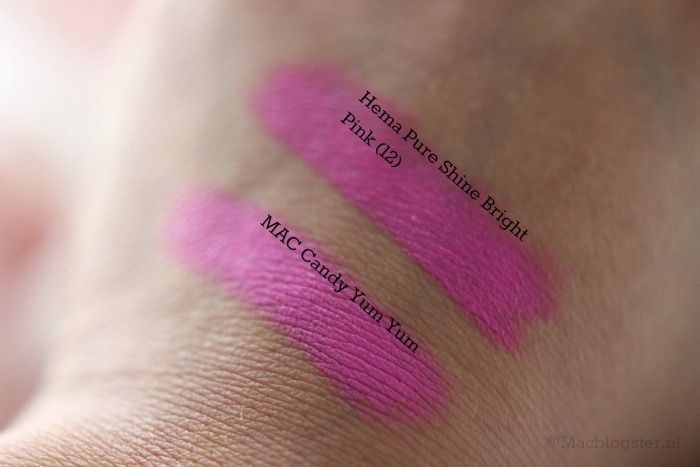 Q | Do you see any difference between Hema lipstick Bright Pink & MAC Candy Yum Yum? Which lipstick do you prefer?