I love me some good multifunctionele make-up. Zeer handig en het scheelt je gesjouw met kilo's make-up als je een paar dagen weg of op vakantie gaat. Zo ontdekte ik de ELF All Over Color Stick, multifunctionele 3-in-1 cream highlighters voor ogen, lippen en gezicht. De prijs: €1,50!
Kleuren
ELF All Over Color Stick is verkrijgbaar in 5 kleuren:
Pink Lemonade
Persimmon (blijkt een dupe te zijn van NARS The Multiple Copacabana)
Lilac Petal
Golden Peach
Spotlight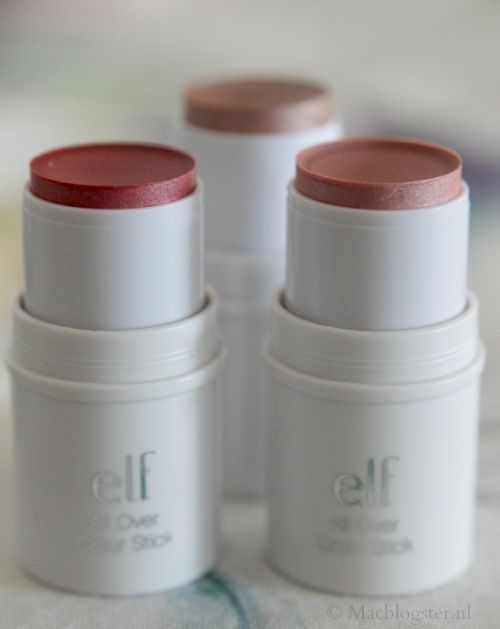 >> Lees ook ELF BAKED HIGHLIGHTERS <<
Multifunctioneel
Afhankelijk van de kleur die je koopt, kun je het als een cream blush of cream highlighter gebruiken. Ik heb 3 ELF All Over Color Sticks gekocht: Pink Lemonade, Persimmon en Lilac Petal. Alle drie kleuren hebben een metallic finish.
De eerste All Over Color Stick vind ik het meest geschikt als blush of lip color. De laatste twee zou ik eerder adviseren om te gebruiken als cream highlighter, omdat ze vrij licht zijn op een getinte of donkere huid.
Structuur ELF All Over Color Stick
De structuur is creamy, but not long lasting. Na een paar uur moet je het opnieuw aanbregen. Gezien de prijs en de grootte van de stick (4 gram), lijkt me dit echter geen probleem.
De kleur breng je aan door met de stick over je wangen, jukbeenderen, lippen of overige gedeelten van je gezicht te gaan. Vervolgens kun je het beste je vingers gebruiken om de kleur goed te verdelen en te vervagen. Dit gaat zeer gemakkelijk.
Voor- en nadelen
De voordelen van de ELF All Over Color Stick
handzaam;
creamy;
zomerse kleuren;
de prijs!
De nadelen van de ELF All Over Color Stick
'smelt' bij hogere temperaturen;
de citrus geur;
blijft niet lang zitten.
Verkoopinfo ELF All Over Color Stick
De 5 ELF All Over Color StickS zijn online verkrijgbaar via de website van ELF, voor het luttele bedrag van  1,50 (4 g). Mocht je bijvoorbeeld naar New York gaan, zie hier een adres waar je een E.L.F. winkel kunt vinden.